Sensor Integration Machine
Sensor Integration Machine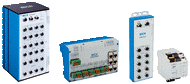 Be creative. Solutions for applications.
The Sensor Integration Machine (SIM) product family – part of the SICK AppSpace eco-system – is opening up new possibilities for application solutions. The portfolio features a scaled range of processing power levels, sensor connection numbers and functions which include the IO-Link sensor hub up to the high-performance Sensor Integration Machine. Data from SICK sensors and cameras can thereby be merged, evaluated, archived and transmitted. The SIMs offer suitable solutions for all applications, even in the context of Industry 4.0.
1 results: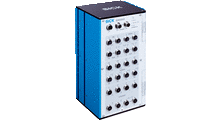 Flexible. Intelligent. Communicative.
Wide range of connections with 25 interfaces for Ethernet-based fieldbuses, cameras, illumination, sensors, encoders, and more besides
8-gigabit Ethernet interfaces for rapid image transmission
Fieldbus and Ethernet interfaces with communication protocols such as OPC-UA and MQTT provide preprocessed data (edge computing) for the control and for cloud computing in parallel "dual talk", thereby allowing networking for digital factories.
Precise synchronization of input and output signals
Illumination control and supply
IO-Link master connections
Enclosure rating IP 65
TOP