Object detection systems
Backup Assistance System
Active collision warning for manned forklift trucks
Your Benefits
Supports the driver when reversing while not distracting the driver when moving forward
Actively warns the driver with visual and audible warning signals
Detects stationary and moving objects – no additional costly equipment required
Compact standalone system for easy integration and mounting
Cost-efficient solution for retrofitting on a large fleet of vehicles regardless of its voltage
Low power consumption minimizes the drain on the vehicle battery




Overview
Active collision warning for manned forklift trucks
The Backup Assistance System (BAS) minimizes the risk of collisions for manned forklift trucks. It monitors areas of the vehicle which are obstructed from view of the driver. The BAS gives real-time feedback via visual and audible warnings when the forklift truck comes near a stationary or moving object. The compact system is based on a TiM3xx 2D LiDAR sensor that is engaged only when the forklift truck is in reverse, thereby eliminating false alarms when moving forward. The monitored area can be scaled up by adding an additional sensor.
At a glance
System is activated when reverse is engaged
Three-stage warning concept with tri-color visual and configurable audible levels up to 98 dB
Two customizable alert zones per sensor
Monitored areas scalable with a second TiM3xx LiDAR sensor
Control unit provides the necessary logic for the sensors and regulates its voltage supply
Advantages

Need-based environment perception
The BAS driver assistance system is based on one or two TiM3xx 2D LiDAR sensors. Each of the sensors features a field of view of 270°. Due to
flexible mounting options
on the vehicle, your monitored area can be adapted and scaled according to the object detection requirements.
Compared to alternative solutions, the BAS detects both stationary and moving objects.
Detection of stationary and moving objects

Scalable monitored area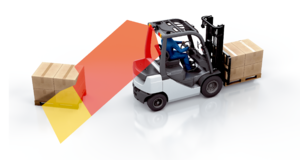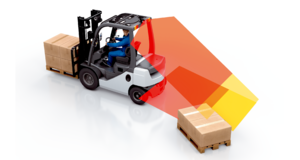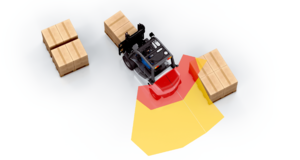 The scalable monitored area enables reliable object detection, thus preventing collisions. This contributes to smooth in-house storage, handling and transport processes in logistics

Three-stage warning concept
The BAS is equipped with a multi-level warning concept consisting of customizable warning fields and a signal light bar that warns the driver of potential collisions with visual and acoustic alarms. The integrated 2D LiDAR sensors only switches to active monitoring when the manned forklift truck is in reverse, preventing false alarms during forward travel.
Actively warns the driver with acoustic and visual warning signals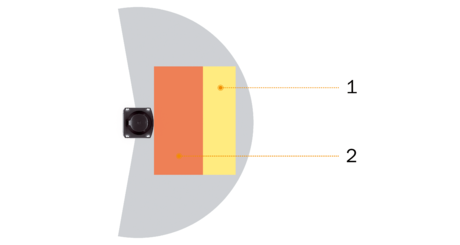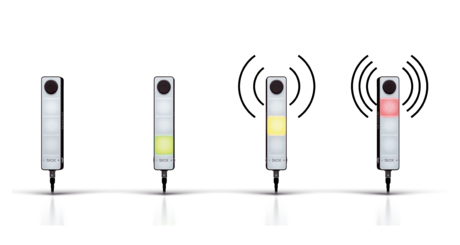 Assistance for the driver with active alerts in real time without false alarms

Compact stand-alone system
All components of the Backup Assistance System are selected to keep integration time minimal so the vehicle is quickly ready for use again. Included with delivery: Sensors, signal light bars and mounting systems for all parts and connecting cables.
Cost-effective retrofitting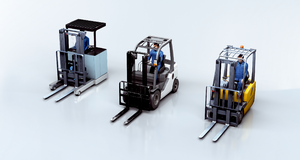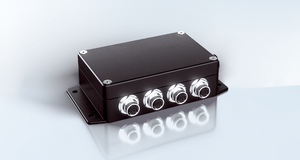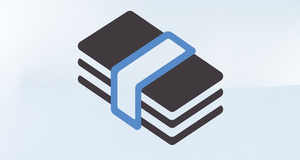 Compact stand-alone system for easy integration and mounting for cost-effective retrofitting
Technical data overview

Technical data overview

| | |
| --- | --- |
| Application | Inside and outside (8 m) |
| Ambient temperature, operation | –20 °C ... +50 °C |
| Vehicles | Internal combustion engine (IC) / electric forklifts |
| Monitored area | Vehicle rear end / vehicle rear end / blind spot or side cover |
| Warning zones | 2 |
| Functions | Visual and acoustic collision warning |
| Scope of delivery | 2D LiDAR sensor TiM351 / Control module assembly with power and reverse cable, 3m / Signal light bar with tri-color visual and configurable audible alarm levels up to 98 dB / Mounting kit for sensor and light stack / Connection cables for sensor and light stack, 5m / 2D LiDAR sensor TiM351 (2 x) / Control module assembly with power and reverse cable, 3m / Signal light bar with tri-color visual and configurable audible alarm levels up to 98 dB (2 x) / Mounting kit for sensor and light stack (2 x) / Connection cables for sensor and light stack, 5m (2 x) |
All technical data can be found accompanying the individual product